We've Moved, but Not Far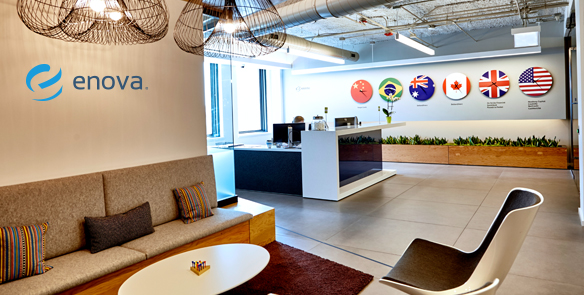 By: David Fisher, CEO
Chicago has been good to Enova. It's where we've grown as a technology and analytics driven company, it's shaped our culture of innovation, and it's where we've found talented team members. That's why when it came time to find a new place to accommodate our growing team and better fit our way of working, we decided to stay in the city.
Today we officially announced our move to a brand new office at 175 W Jackson Blvd, and with it our renewed commitment to Chicago and the local tech community. Almost 900 recently completed the move. Since the move, we've enjoyed how our new space provides us with an open floor plan interspersed with huddle rooms, cabanas and other informal gathering areas, all aimed at making collaboration easier.
On Thursday night, we celebrated our new home with an open house for family and friends. Along with a tour, they enjoyed food and drinks in our expansive, fully stocked kitchen and dining area, and took turns trying out our tournament-grade tennis table, vintage arcade machines and foosball table. One of their favorite features was the vibrant graffiti artwork created by local artists Zachary MacTavish and Miguel Aguilar – a student and teacher from the School of the Art Institute of Chicago. In addition, local representatives stopped by on Friday morning to help us celebrate our new space and renewed commitment to the Chicago tech community.
At every point in the new office decision-making process, we looked to the people with the best answers: our team members. We tapped our employee base to provide input on everything from office aesthetics to employee perks. Our analytics team heat mapped our employees' commutes to determine the ideal location for our office. Desk chairs, arcade machines, and drink and snack preferences were chosen by vote – even the conference room names were crowd-sourced.
We continue to serve our customers around the world right from our Chicago headquarters, except now we get the benefits of a more open and efficient layout. This enables team members to more easily leverage real-time feedback, quickly modify processes and operations, and enhance the customer experience through continuous product and service development.
In the coming months, we look forward to continuing to host tech meetups and other community events in the space, like our next Build, Maintain, Grow event, "Getting the most out of your business analytics," on August 18. We hope you'll stop by to experience the new space and see for yourself how it reflects our culture and enables us to work together better.