One Team, Infinite Possibilities (And How You Can Get on the Rocket Ship)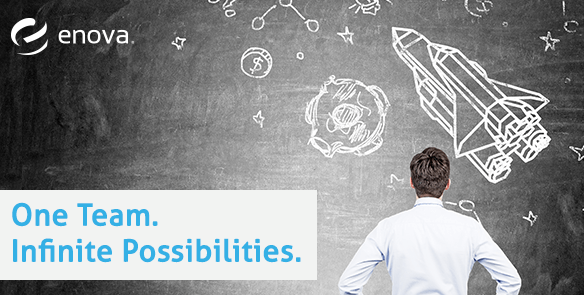 By: John Higginson, CTO
A few days ago, SpaceX launched a gloss-red Tesla roadster into a heliocentric orbit that will take it past Mars, into the asteroid belt, and circle back near earth in about five years. A mannequin, wearing a SpaceX spacesuit, sits in the driver seat, the car's display shows the Hitchhiker's Guide motto "Don't Panic!" and the sound system loops David's Bowie's "Starman" — a sort of grand triumvirate of geekish motifs. But there are two important stories behind humankind's newest satellite: One is the once-impossible story of the next generation of advanced, reusable rocketry. The other is a story of a team that came together to make the impossible merely just somewhat difficult.
So what does launching a car into space have to do with Enova? Like SpaceX, Enova is working to invent the future, but for credit. Our mission: Helping hardworking people access fast, trustworthy credit. Our company began in 2004 with a rather radical idea — that you could create an online-only experience that would collect information from customers you would never see in person, build advanced analytics models consuming more than a thousand variables, and render a credit decision in real-time while they were on the site. Impossible? We figured out how to build the technology and analytics to make it possible. It was just somewhat difficult. From there we enhanced our technology to provide many different kinds of credit product online, for consumers and small businesses. And that expertise in building those tools for ourselves led to our newest business — Enova Decisions — one of the first truly viable and scalable "decision as a service" solutions in the industry.
Like SpaceX, Enova is powered by a great team. And as our company and our product portfolio grows in lending and in software-as-a-service (we're rapidly approaching being a billion-dollar company), we need to grow that team in 2018. We're looking to hire 30+ people to build our next generation apps, machine learning models, and global infrastructure, ranging in level from Software Engineer through Lead Engineer.
We like to say we are an awesome place to work here at Enova, but we wouldn't just say that without data. So what do we hear from our people about why they love Enova?
Our Tech Stack:
Enova deeply values the work of (and gives back to) the open source community which is reflected in our toolset:
Ruby on Rails

Go

Postgres

Ember
But it doesn't matter what language or platform you're coming from, and we are completely "language agnostic." As I tell people, my first two programming languages were Fortran and Forth…at that point I was safe to move onto the "Gs," which is how I learned Go.
Learning:
At Enova, we've developed "Baseline," a comprehensive training resource that helps engineers get familiar with our tools and our environment. Your first job at Enova is to learn. And learning is a part of your job that never goes away and is deeply rooted in our culture. We have weekly "Enova Talks" where people on the team stand up and cover a project they're working on or a technology that they think is valuable for the future. We hold "Fellowship" competitions where people pitch ideas in a "Shark Tank" – like environment with the winners getting a month away from their current project to pursue it. And we allocate money for everyone to attend a conference or a training each year. Growth goes beyond learning to having the chance to advance and to move to different projects or different technologies. We take the development of our people seriously and we make sure the opportunities are visible to everyone. We've even open-sourced our career ladders: https://github.com/enova/career_ladders
Diversity & Inclusion:
Building a great team means opening the doors to everyone with the ideas, drive, and passion to create those future products. We are deeply committed to diversity on our team. We created and sponsor an annual Women in Tech conference, host meetups for LGBTQ tech associations in Chicago, and support returning veterans moving to tech careers as well as groups that help underrepresented minorities train for software engineering roles.
Perks, Benefits, and Office Happenings:
We also recognize that families and personal growth are important. We support new parents (men and women) with parental leave, all corporate employees are offered a four-week paid sabbatical after their four year anniversary, and we have comprehensive benefits for employees and their families. We have wellness rooms for mothers coming back from leave and offer $500 in "Baby Cash" to help with the financial need new parents see. And we certainly have some fun along the way. You'll see us "scooting" around the office going from meeting to the snack wall, competing in chess or euchre competitions over lunch, or grabbing a quick manicure or haircut in the breakroom. Like carving pumpkins? How about pumpkins powered by Arduino modules, which is something you see here every October. Check out our pictures here: https://www.instagram.com/insideenova/
Fulfilling our mission and commitment to our customers, pioneering technology, the personal growth opportunities we offer, and the pumpkins are all reasons why Enova really is an awesome place to work. Come join us! https://www.enova.com/careers/