Inside Enova: The Recruiting Team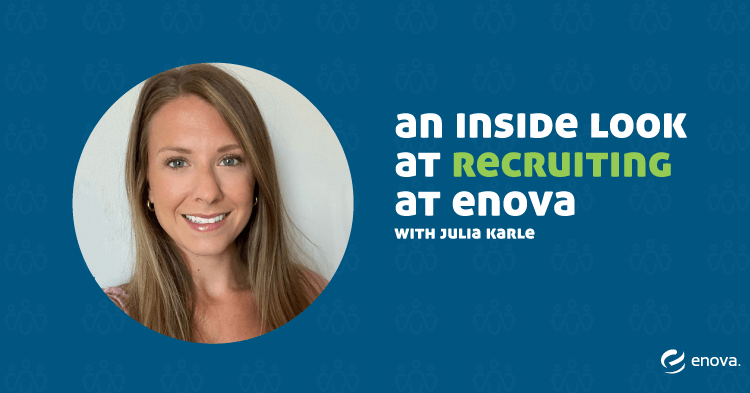 by: Juia Karle, Tech Recruiter
My name is Julia Karle, and I've been a Tech Recruiter with Enova since March 2019. I'm often asked why I wanted to join Enova's recruiting team. After all, Chicago has a huge Tech community. 
I joined Enova's recruiting team because of the team members I interviewed with and the opportunity to take ownership of challenging projects I had not had exposure to in my previous roles. The team was incredibly welcoming, and I connected with them right away, so Enova quickly felt like the right place for me!
Enova has lots of great perks that I get to share with candidates every day but my favorite Enova perkby far is Summer Hours! Nothing beats shutting down your computer at 2 P.M. on Fridays during the summer to start your weekend early once you've gotten your work done. Whether it's the ability to leave early for a weekend trip, or head to the pool to enjoy the weather, this perk provides so much flexibility during the summer!
The exciting thing about the People Team is that you have the chance to interact with so many teams across the organization.
The core teams I support and partner with from a recruiting standpoint are our Tech teams (Software Engineering, TechOps, and IT), Analytics, Marketing, and Accounting. I partner with leadership and hiring managers to solidify role requirements for open roles, build out interview processes and strategize a search for the right candidate. I focus on recruiting for these teams, so I also know most team members that I helped onboard. I love seeing them in meetings and watching them grow and succeed at Enova.
I work very closely with other groups on the People Team such as Talent, People Operations, People Resources, and Compensation and Benefits for on-boarding and to ensure a successful transition for the new hire. 
As I previously mentioned, it is wonderful to see candidates growing into their new role. What I miss most about the office, aside from the coffee machines and free food, is being able to see my team and coworkers every day! There is something about starting your day out with a quick catch up in the kitchen while making your coffee, or small talk in the hallway as you're walking to your next meeting. The best part of Enova is definitely the genuine people!
Not only do I have great colleagues, but I love having the ability to own projects from start to finish, and feeling like I am constantly learning and growing in my role. My manager provides the perfect balance between guidance and autonomy and I always feel challenged and supported in the work that I am doing.
Outside of work I spend most of my time with my husband and my dog, Ellie. She is a mutt that we rescued from Tennessee during quarantine, and she has been keeping our lives fun and interesting while working remotely. We really enjoy being outside, taking weekend trips to new and favorite places, going out to dinners in Chicago, and of course binge watching the best shows on Netflix and HBO. I also am very interested in health and fitness and have a slight addiction to OrangeTheory Fitness!