From Creative Services Department to Enova Studios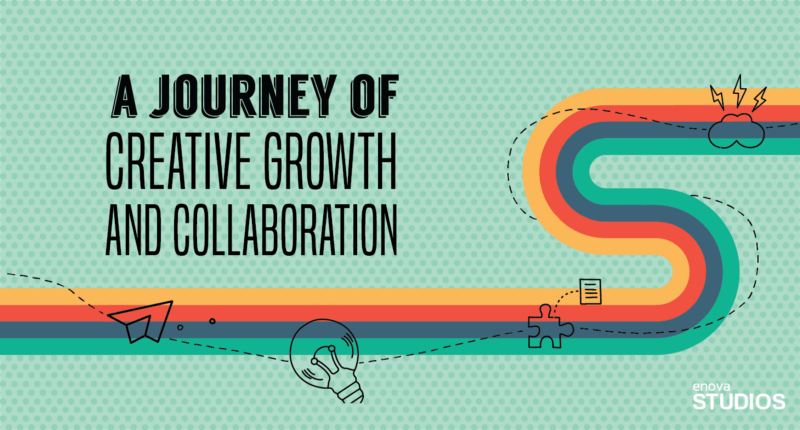 By Donna Williams, Enova Studios Senior Manager
What's in a name, really? A lot, as it turns out. And changing our department's was a protracted and deliberate journey encompassing our transition to a full in-house agency and more. This is the story of our journey to becoming Enova Studios.
Meet the Creatives
A creative is an artist. Not just a painter or musician or writer. A creative is someone who sees the world a little differently than others.
When I was first hired as Creative Services Manager at Enova International, the core services the team provided were copywriting and graphic design. We were a small team supporting a handful of internal brands, functioning mostly in a production capacity. Our internal clients — composed primarily of marketing teams — needed things done in software that they didn't know how to use or have access to. Requests were made via email or a casual conversation in a hallway.
Over the years, we have evolved and elevated the size and skillsets of the creative team. We now have a team of 16 creatives, including copywriters, designers, UX designers, front-end developers, content and social media associates, and video/photo production specialists. We provide a full range of services to a host of internal clients, from marketing teams to product managers, recruiting teams to software engineers. In a typical month, our queue has over 150 design, UX, code, copy, production and social media projects. The team is challenged, learning and growing.
The Creatives Have Bonded
Unity is strength… when there is teamwork and collaboration, wonderful things can be achieved.
The majority of the current creative team have been working and collaborating together for well over two years. As any creative leader knows, keeping the work — and the ideas — fresh can be a challenge. Although our team works on nine internal brands, and the work can be varied and challenging, after a couple of years we thought we needed to mix things up a bit. Our goal was a simple one: Encourage the team to stretch beyond the status quo. Strengths, weaknesses and personal development goals were identified and plans were put into place.
In addition to adding a new spark to our creative work, we also wanted to provide opportunities for each team member to learn and grow. When we examined the way that our team worked with each other and with internal clients, we saw a strong foundation that enabled us to take a leap and move into an agency role within Enova, offering the team career growth opportunities well beyond their time here at Enova Studios.
The Creatives Want High-Fives
Everybody is looking for validation, no matter who you are, and I think that's a need of the human condition — to look for affection, recognition or validation.
Moving from a services department to an internal agency positioned the team as a strategic partner rather than a service provider that takes orders and fulfills requests. We approached it as a chance to start fresh and to prove the talents and abilities of the team. We want our internal clients to trust the team to deliver agency-grade results and recognize us as an organized, talented group that consistently delivers high-quality work.
This transition to strategic creative partner also allows us to establish measures for success, track our work and more accurately measure project success and client satisfaction. All of this proves the team's value to the company and creates opportunities to spotlight the work that the team is doing at the highest levels in the company — and the creative community as a whole.
Partner With the Creatives
Unity is strength… when there is teamwork and collaboration, wonderful things can be achieved.
Going into this new mindset means no more order taking — it's not fast food. We want to have discussions and fully understand the business problems that our internal clients are struggling to solve. This provides more control over which projects we work on and how we prioritize those projects against overall business strategic goals. The team works collaboratively with the clients, providing expertise, ideas and knowledge of best practices instead of being told what to do.
The team is now being recognized as the subject-matter experts that we are, with internal clients seeking us out to collaborate and help problem solve. The team is a strategic partner, providing real-world, bottom-line solutions, and we're being held accountable for real business results.
Creatives Get More Creative #creativeception
Be brave enough to live life creatively. The creative place where no one else has ever been.
The team always strives to provide more creative creative. We have optimized our creative processes and implemented more user and usability testing, and we always focus on business results. The team as a whole is now participating in creative ideation, concept development and pitching to internal clients. We try to always provide what the client asks for, as well as an alternate version that better resonates with best practices, user behavior and results-tested creative.
At the end of the day, creatives want to feel inspired, appreciated and challenged. By putting these changes into place, we hope to do just that for all of the writers, designers, coders, social media experts and production artists in Enova Studios. My goal as a creative leader is to inspire my team to always challenge themselves and each other to elevate the creative even more. And have fun doing it.
Enova Studios is a full-service in-house creative agency. We partner with our brands to concept and create the ideas — big and small — that accomplish our shared goal: selling our products and building our business.