Adjusting Our Contact Center to Remote Work: Part 2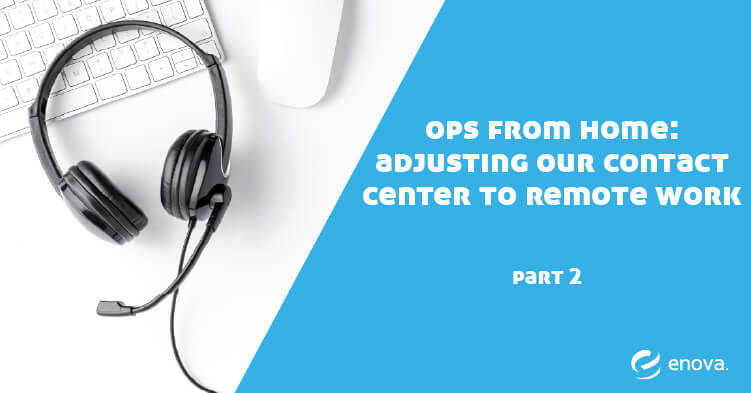 By Jason Such
This is the second of a two part series where we look back on how we planned and transitioned our workforce to a remote work state along with shifting priorities and the way we drove performance to support Enova's COVID-19 Response Strategy in 2020. In Part 1,we shared how we planned to move our teams to a remote work state and the areas of focus through that process.  In Part 2, we dig into how we pivoted our strategy, adjusted our priorities and shifted our workforce to new functions to support Enova's COVID-19 response strategy. 
By the end of March, we had transitioned our team to a remote work state and started to take calls from our customers to support them through this unprecedented pandemic. The initial days went better than we could have ever expected. Our IT team and Operations leadership were ready to answer questions and troubleshoot issues that came up so we could support our Operations team members with questions from our customers.
After a few weeks of working remotely, we needed to make adjustments to our staffing needs and implement new processes to continue to support our customers properly. Our business team set forth a strategy that required shifting 120 Originations associates over to our Customer Service and Collections teams. Our Training team and leaders coordinated to ensure that we thought through the challenges of extensive training in a remote work state — another first for Enova. Our Training team built and facilitated online courses and answered questions. The courses had to be a bit longer than normal in-person training would be, but the Training team worked through the challenges and made sure everyone was prepared to handle their new temporary responsibilities. 
Our processes continued to change based on our COVID-19 response strategy, and the business metrics that we monitored changed along with our response. We worked with our Strategy & Operations team to create processes and tools to both support our teams and measure success. We decided the best approach to manage the different team functions and their responsibilities during this time was to have a PIC for each area. We met frequently with each team to monitor results, discuss how to adjust processes and improve tools and resources. Our Metrics and Reporting team also developed new reporting to support the changes we made, allowing for additional insight into how things were working.
To support the numerous changes to our processes and procedures, we created an internal strike team to help coaching, monitoring and auditing. We wanted to have dedicated resources to support our teams during this time given all of the change. Our Quality team made changes to our quality scorecards and adjusted their monitoring strategy to allow for increased visibility and inspection of the calls coming in from customers who were impacted by the pandemic. This allowed for increased coaching and gave insight into what our customers were experiencing. Through these efforts, we experienced a steady lift in overall results. 
During this time we also started to strategize what internal communication and recognition looked like in a long-term remote work state. We hosted more regular stand ups and modified expectations for frequency of communication, especially since we could not see each other in-person every day. We continued to recognize and motivate our teams as well. We really tried to think outside the box given the circumstances of remote work and came up with ideas like weekly contests centered around our values. We also hosted virtual game nights and virtual happy hours. All of these efforts went over well and were really met with a positive response from our representatives.
In the 10 years that I have been working at Enova and the 21+ years I have been working in contact centers, I have never experienced anything like this and certainly not in the timeframe in which it had to be accomplished. I was impressed by the ways that our business teams came together and proud of how our Operations team responded. Without our people, we would have not seen the success we did and ensured our Customer First value was on full display. Looking back on the transition to remote work a full year later, I can say that we have continued to put our customers first while being flexible for team members and adjusting to a remote workplace.